Insect Pests of Strawberries
and Their Management

Compiled by: Thomas P. Kuhar and Douglas G. Pfeiffer
Department of Entomology
Virginia Tech
Blacksburg, VA

This page was prepared mainly by the senior author as part of a project for ENT 4987, Arthropod Management in Fruit Crops.

---
Updated 3 May 2000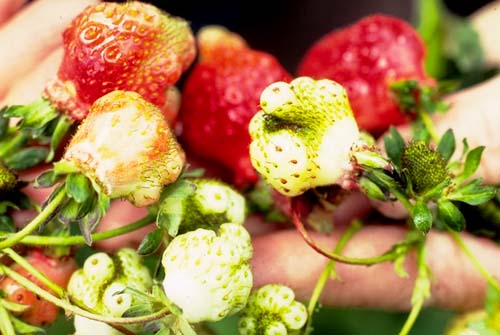 Strawberries are one of the highest value per-acre crops grown in North America with annual yields ranging from 4 to 20 tons/acre and gross values ranging from $2,800 to $14,000 per acre (Schaefers 1981). As a result, management of insect pests on strawberries is crucial since even minor yield reductions resulting from insect injury can have important economic effects.
Important Pests of Strawberries
Over 200 species of arthropod pests have been reported on strawberries in the United States (Schaefers 1981). However, only about 15 species are of major concern to strawberry producers each year. The following sections deal with the biology and management of the major arthropod pests attacking strawberries in Virginia.

Pests causing direct injury:
Pests causing indirect injury:
Control Guidelines for Virginia: Commercial and Homeowner (Use caution because pest species and recommended control vary regionally).




Links to other strawberry IPM web sites